"Come unto Me all ye that labor and are heavy laden, and I will give you rest." - Matthew 11:28


Beautiful Heavenly melodies, conservative Christian music, fine classics, and Spirit of Prophecy inspirationals to heal and uplift your soul.
MELODIES OF PRAYER

KGCA-LP FM 106.9 & FM 107.9, Tumon, GUAM

Inspirational Christian Music & Fine Classics
Spirit of Prophecy Inspirationals
Health & Lifestyle / Functional Medicine
MELODIES OF PRAYER, INC. (A U.S. Non-profit Organization)
Listen to Heavenly music
without a computer ..

GOOD NEWS:
Jesus Is Coming Again!
Guam, USA
"We have nothing to fear for the future,
except as we shall forget the way the Lord has led us,
and His teaching in our past history."
-- Ellen G. White, Life Sketches, p.196
"Gentle Shepherd, come and feed us,
for we need Your strength from day to day.

There's no other we can turn to
Who can help us face another day;

Gentle Shepherd, come and lead us,
for we need You to help us find our way."
-- Bill & Gloria Gaither
Gaither Vocal Band
PRAISE ITEMS:
To all friends and prayer warriors,
Rejoice with us .. Praise the Lord ... He answers prayer!
Through God's grace, MELODIES OF PRAYER went on Saipan airwaves on FM 91.5
on December 12, 2010, embracing all of Saipan and Tinian islands for Jesus.
MELODIES OF PRAYER is now on Guam FM 106.9 and FM 107.9 since August 31, 2010,
touching over 85% of Guam, to uplift hearts and touch lives for God's glory.

We are humbled and filled with His joy.
Thank you for all your prayers. May God be praised always!
PRAYER ITEMS:
Join us in prayer ...
For a new license/upgrade to high-power FM broadcast to reach over 95% of Guam.
For God's "Melodies Of Prayer" to touch millions of drivers in the world's traffic and freeways
of Los Angeles, New York, Jakarta, Tokyo, New Delhi, Manila, Hong Kong, etc.
who are daily scanning their radios and yearning for uplifting, healing and peace,
which Christ alone can supply.
The Sabbath - the faith of Jesus - His beautiful and loving memorial for His children (you and I).

PROMINENT SABBATH KEEPERS


Adam & Eve
Seth
Henoch
Methuselah
Noah
Abraham & Sarah
Isaac & Rebecca
Jacob & Rachel
Joseph
Moses
Miriam & Aaron
Joshua & Caleb
Job
Ruth & Boaz
King David
King Solomon
Queen Esther
Elijah
Isaiah
Prophet Daniel

Mary Magdalene & Martha & Lazarus
The Blessed Virgin Mary & Joseph
John the Baptist
Saint Matthew
Saint Mark
Saint Luke
Saint John (The Beloved)
Saint Peter
Saint James
Saint Paul (The Great Apostle Paul)

Jesus Christ (The Savior of The World)

Saint Patrick




YOU (?) -- Will you?

Jesus (the Lord of the Sabbath) bids:
"Will you follow Me?"



O soul, are you weary and troubled?
No light in the darkness you see?
There's a light for a look at the Savior,
And life more abundant and free!
Turn your eyes upon Jesus,
Look full in His wonderful face,
And the things of earth will grow strangely dim,
In the light of His glory and grace.
-- Helen H. Lemmel



"Come unto Me all ye that labor and are heavy laden,
and I will give you rest." --Matthew 11:28


WE ALL WILL CELEBRATE THE SABBATH IN HEAVEN


You and I, all of us will worship God every Sabbath in Heaven.



"For as the new heavens and the new earth, which I will make, shall remain before me, saith the LORD, so shall your seed and your name remain."

"And it shall come to pass, that from one new moon to another, and from one sabbath to another, shall all flesh come to worship before me, saith the LORD."
-- Isaiah 66:22,23




When we all get to Heaven,
What a day of rejoicing that will be!
When we all see Jesus,
We'll sing and shout the victory!
--Eliza E. Hewitt
Jesus invites you and I
to keep His Sabbath now.

"If you love me, keep my Commandments" --John 14:15




The Lord's 4th Commandment:

"Remember the Sabbath Day to keep it holy."

"Six days shalt thou labour, and do all thy work:

"But the seventh day is the sabbath of the LORD thy God: in it thou shalt not do any work, thou, nor thy son, nor thy daughter, thy manservant, nor thy maidservant, nor thy cattle, nor thy stranger that is within thy gates:

"For in six days the LORD made heaven and earth, the sea, and all that in them is, and rested the seventh day: wherefore the LORD blessed the sabbath day, and hallowed it."
--Exodus 20:8-11




The Savior is waiting to enter your heart.
Won't you let Him come in?
There's nothing in this world to keep you apart.
O how He yearns to come in and give you His peace.

FORGIVING THOSE WHO HURT YOU EVEN IF THEY DON'T APOLOGIZE
How do you forgive those who hurt you when they do not apologize, do not acknowledge their wrong, and feel no remorse?
How do you overcome the bitter pain and the anger?
How can you even possibly love your enemy?
Can you possibly be freed from bitterness and anger? Can you ever win and be truly free?

ANSWER: Yes, you deserve a big apology. And Christ paid dearly for it! In place of those who wronged you, Christ took the full blame, became the One at fault, and died as the guilty One, so He can fulfill the most important apology required to heal your pain -- the perfect apology! Now you no longer need man's imperfect apology -- you are free! Jesus paid it all! Why? He loved you. He loved all so much, He came and died for all, including your enemy! Christ is the best and only real solution to man's problems. He is the best for you. Only He can completely remove fear, anger, bitterness and remove the pain, and fill your heart with the true power of love which brings you abiding peace and true joy.

So, keep your focus on Christ, your Deliverer. When you yoke up with Him, He becomes your strength and efficiency. His love can save you from your self (the biggest enemy). He will help you truly love (and win) like Him!
THE LOVER GOES OUT
The Sower leaves the comforts and safety of the City and goeth forth. He left Heaven, to come to dark Earth - to be with us.

He does the sowing. He carries the load. He endures the long days. He sends the rain. He brings up the sun.

He couldn't help it - He loved you and I so much.

He came to plant truth Seeds of Salvation, seeking open soil - our hearts. So that now we can have a choice.

We can choose to embrace Him .. the only best thing we can do for Him, and for our own healing, growth and happiness - forever.
THE WOMAN WHO LOVED THE MOST
She loved Jesus the most.
He cleansed 7 devils from this "sinful woman."

Mary annointed the Savior before His death; she was the one who really believed His word. When the disciples fled, she stayed. She stood the longest till the end of His crucifixion. She was the first at the tomb on His resurrection. She was first to acknowledge Christ has risen!

-- She loved the most because she was most forgiven!
WORKERS VS. LOVERS
Cain brought the best of his works, but Abel brought a lamb to the altar. Both endeavored to worship God; but there was only One Way to reach the throne of grace, and touch the heart of the Most Holy -- with a reverent love for God, Abel chose the Lamb of God.

In the atonement for sin, Cain's way was futile and his offering disqualified; Abel's obedience was honored and his offering accepted. Infuriated, Cain slew his brother, and left after his own way, the rest of life a fugitive to roam the face of the earth.
It's not about "WHAT" we bring but rather "WHO" we bring to the altar of atonement that counts.

It is not WHAT we can do that truly matters - but rather WHO He is, the One truly able to cover our nakedness with His robe of righteousness and WHO has payed for all our sins. Not even our best efforts, determination, "works", penance, sacrifice, prayers, or worship have any merit to pay for a single sin -- we simply cannot pay it (not even 2 cents!). Only the Lamb of God suffices. Christ's sacrifice alone is efficacious. Praise God, HE has payed the price in full!
LOVERS simply love. As the subjects of His great love, we obey His law, not in order to be saved, but rather because we have been saved.
"We love .. because He first loved us." (1 John 4:19).
"But God commendeth his love toward us, in that, while we were yet sinners, Christ died for us." (Romans 5:8).

O, how HE LOVED you and me!

Moved by His deep love for us, we yearn to do all His desires (His will, His loving character, His Holy law).
If ye love me, keep My Commandments. (John 14:15)
If ye keep my commandments, ye shall abide in my love; even as I have kept my Father's commandments, and abide in his love. (John 15:10)
Let's share the good news:
"Jesus Is Coming Soon!"
Let's reach the whole world with the Gospel.
Let's fill out the map for Jesus!
In this wide world, God's loving eye specially cares for you!
And our prayers ascend for you each day.
Geo-location by www.web-stat.com - Loading Map ...


Beautiful Heavenly melodies, conservative Christian music
and fine classics to heal and uplift your soul.

Sharing Heaven's faithfulness and love with healing inspirationals
from friends with a Sabbath prayer and a joyous hope for you
as we together journey to that glorious Second Coming of Jesus.

(see map)





Join us in sharing Jesus' love with Guam/Micronesia
and the world beyond.




THE SECRET PLACE OF THE MOST HIGH

"I lift mine eyes unto the hills from whence cometh my strength .. " (David's psalm)


Warm greetings, friend on the Journey,

Today, the psalmist through his psalm still sings a song about the mountain,
the secret place of the Most High,
about its quiet beauty in purity,
its fresh mist and soft winds of peaceful strength,
where the heavy soul is free to rise above the vistas of Earth,
and the heart's eye can wander far beyond the clouds
above the tumultuous valleys into the glorious expanse
and catch the glimpse of the lights of Home,
of God's Promised Land,
where true-lovers' eyes meet
and heartstrings are quickened with Heaven's powerful love --
a song of triumph of righteousness and grace,
of justice and love,
of childlike beauty of humbleness of spirit
and the power of Truth, of the Almighty,
where one lays down all burden of sin
and learns to sing the sweetness of forgiving and of being forgiven,
of restoring true joy to the heart and health to the bones
and youthfulness to the aged,
of that long awaited moment that finally blooms in Perfection,
just the way it was made by the beautiful soft touch of the Ultimate Lover,
the One who first loved us, the Lover of our souls,
who said,

"Let not your heart be troubled,
ye believe in God, believe also in Me:
In My Father's house are many mansions;
if it were not so I would have told you.
For I go to prepare a place for you ..
And when I go to prepare a place for you I will come again,
and receive you unto Myself:
That where I am, there you may be also!" (John 14:1-3)


To walk in the atmosphere of heaven,
above the din and bustle of earth?s busy noise,
even in our walk in this valley below,
what a privilege to walk daily that powerful walk like Enoch,
to commune with God -- Jesus Christ, the fairest of ten thousand,
the unfailing Lover of our souls, God Himself!

And He is coming again -- Jesus is coming again, soon!

Once you?ve found that secret place of the Most High,
how about sharing with someone along the journey,
to cheer and uplift and bring them to the Savior,
the Lord of the Sabbath, of true Love and rest for the soul?

http://melodiesofprayer.com

* * *


TRUE REST FOR YOUR SOUL

Jesus, the Lord of the Sabbath, died to uphold His loving precious precepts,
His unchanging law and His Sabbath,
and paid the penalty required by His law for the payment of our sins,
for our salvation, because the law could not be changed.

Millions, however, have forgotten His law and the Sabbath seal in His Ten commandments.
Jesus is still reaching out His nail-pierced hands to you and I.
Will you give Him your heart? Your time? Your all?
Will you love Him by keeping His Commandments
("If you love Me, keep My Commandments"), by keeping His Sabbath holy?

He wants you to be home at last with Him.
Will you be there for that great Sabbath morning when all the saints come marching in?
Friend, please be there.

Heaven would be a marvelous and sweet relief to all battle-worn soldiers
who faithfully stand under Christ's blood-stained banner
to uphold God?s truth (above the doctrines and traditions of men)
and keep His commandments and the faith of Jesus,
and finally overcome in His strength.

In this world we would have tribulation when we stand for Christ.
But the harder the battle the sweeter Heaven would be.
And we are promised victory and power to walk as He walked even here and now.
The Savior is calling you and I to enlist in His loving cause.

Friend, would you take time to be holy.
To find time to search your heart
and find your heart's real need of Him who dost love you.
To learn more of Him and His truth that He strove to keep -- the faith of Jesus.
To find His secret place and to walk daily in that foretaste of Heaven.

Will you embrace His sign of relationship ("that you are My people"), His Sabbath day of rest.
Will you accept His invitation,
and find time to go to His mountain,
to commune with Him and find true rest for your soul?

Friend, will you embrace him as the Lord of the Sabbath?
The Lord yearns, "Child, give me thine heart."
And very soon, "Welcome Home, Children, this is the playside prepared for you!"

May God bless you as you journey for Him.


And we are with you .. our prayers go with you daily.

Your praying friends in Christ,

MELODIES OF PRAYER
May Heaven's beauty, power, and love fill your heart today.

http://melodiesofprayer.com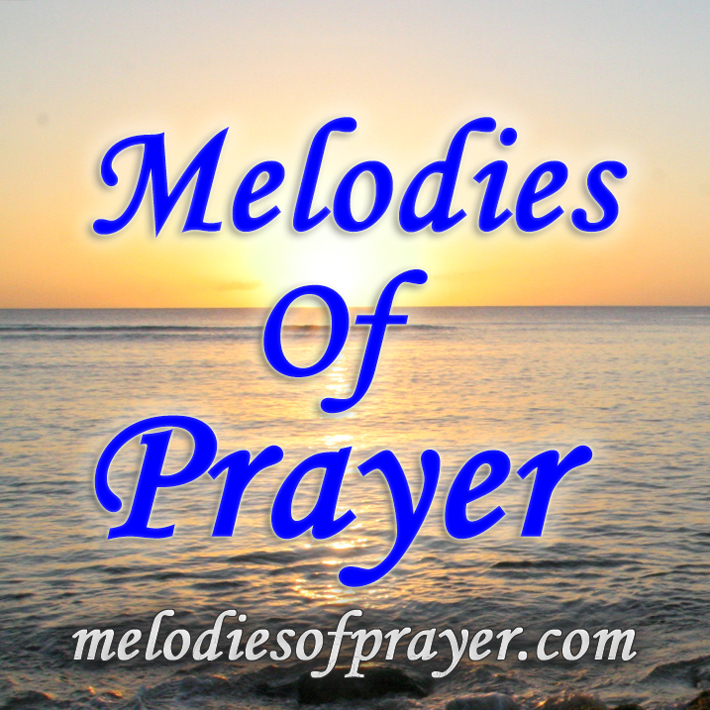 "When we walk with the Lord .. in the light of His Word,
what a glory He sheds on our way
When we do His good will .. He'll abide with us still
and with all who will trust and obey!

Trust and obey, for there's no other way .. to be happy in Jesus
but to trust and obey!"
The Sabbath - the faith of Jesus - His beautiful and loving memorial for His children (you and I).
MELODIES OF PRAYER

KGCA-LP FM 106.9 & FM 107.9, Tumon, GUAM

Inspirational Christian Music & Fine Classics
Spirit of Prophecy Inspirationals
Health & Lifestyle / Functional Medicine
MELODIES OF PRAYER, INC. (A U.S. Non-profit Organization)
鲰05 MelodiesOfPrayer.com. All Rights Reserved
A non-profit healing ministry by friends in Guam with a prayer and loving vision and active mission in functional medicine, healthful lifestyle,
and spiritual ministry, helping peoples of Guam, Micronesia and the world beyond find healing and Salvation in Jesus.
MELODIES OF PRAYER, INC. (EIN 66-0734761) is a U.S. non-profit organization, incorporated exclusively for religious, charitable and educational purposes within the meaning of the 501(c)(3) of the U.S. Internal Revenue Code.

"May Heaven's beauty, power and love fill your heart today"
brought to you prayerfully .. with love from Guam